Your WordPress website security is a critical element for your online business.
The face of your business online is your website.
A website is the sole revenue generator for online businesses.
If your website is an e-commerce site your security becomes even more crucial.
5 WordPress Website Security Tips
1.  Keep WordPress up-to-date.
A recent study from Securi showed that 56% of WordPress installations were running out-of-date versions of core.
This may seem too simple but many people ignore the WordPress updates.
If you do, you are opening up avenues for hackers to attack your website.
WordPress now has the ability to update automatically.
While I don't recommend this for everyone, it is definitely something to consider for your WordPress website Security.
2. Keep your plugins and themes up-to-date.
Security deficiencies in WordPress plugins and themes make up more than 50% of all WordPress hacks.
Most of these can be easily avoided by keeping your plugins up-to-date.
If you want to update remotely or if you have multiple sites to update check out WP Remote.
Here's an article and a video demo of WP Remote from an earlier post.
Manage Multiple WordPress Sites with WP Remote
3. Delete unused plugins and themes.
There is no point in keeping  plugins and themes you are not using.
Less plugins and themes to update mean you have less to worry about.
Also, if a plugin is no longer supported and updated by the developer it may create a huge security risk for your site.
Plugins and themes also use resources and can be a drag on your website's performance.
Delete anything unused and clean up your site.
4. Strengthen your login information.
Weak login information is one the most common vulnerabilities for WordPress website security.
There are several ways you can beef up your WordPress login.
5. Backup regularly.
Even the most secure sites get hacked.
You need to be prepared for the worst.
Using a plugin like UpdraftPlus is a great start.
However, if you hosting company's database gets damaged in an attack you may not be able to recover your website.
A separate "offsite" backup is a good idea.
You can do this manually by regularly downloading your backups or you can set up a service to do it automatically.
I use Amazon S3 services for literally pennies to backup my websites and all my clients websites.
It's a process to get that setup but definitely worth it.
I hope you found value learning about WordPress website security.
If you did please like, comment and share.
To Your Success!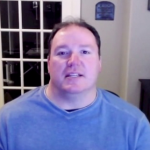 Steve Stark
Email me at steve@starkwebdesign.com
Follow me on Twitter
Find me on Instagram